BUTTERMINTS
BUTTERMINTS
BUTTERMINTS
How a brand refresh launched Buttermints into the national spotlight.
Buttermints was a great product, but had low sales and was carried in only a few select locations. As a small operation with only a few employees there was only so much they could do and marketing efforts were not consistent. Clark (the owner) knew he needed to get serious about his branding and marketing. He needed to enlist help.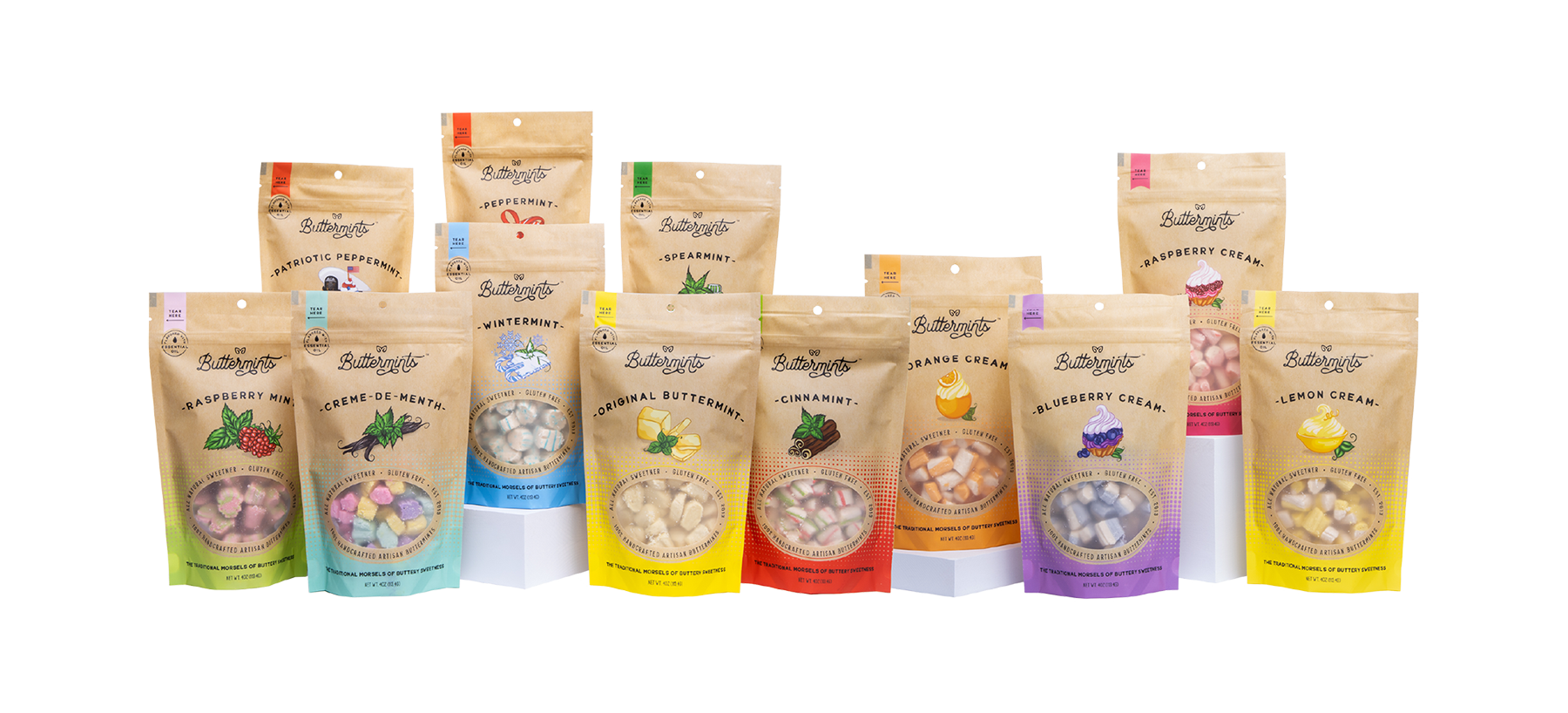 This is how Buttermints grew from local obscurity to being sold on national television to millions.
He chose us to help him grow his brand to national and international renown. After many brand discovery sessions, we determined that a brand refresh was necessary to attract the desired customers and retailers. We helped them create their Only Brand™, which positions their brand to compete where only they can win. Buttermints is a unique candy product that has texture and flavor unlike anything else out there. People just didn't know it existed and what it was!
BRAND STRATEGY
Positioning Buttermints For Victory
After several discovery sessions, Flitch determined that a brand refresh was necessary to attract the desired customers and retailers. Flitch helped them position their brand to compete where only they can win, or what Flitch calls their Only Brand™. The brand needed to harken back to early 1900's candy making while maintaining modern design sensibilities for packaging and display design. The messaging needed to be about how Buttermints candies make people feel happy.
CREATIVE
Buttermints was a great product, but had low sales and was carried in only a few select locations. They had essentially no website sales or online presence. The visual identity needed a big facelift in order to appeal to a much larger audience and also to retailers. Simply put, most people had never heard of Buttermints and sales were underwhelming.

PACKAGING
The product packaging and website design alone were enough to gain his meetings with top-level executives of grocery chains and other retailers. Upon completion of the brand work, Buttermints was discovered by The Home Shopping Network (HSN) and invited to participate in their reality competition show, The Big Find. Flitch was instrumental in helping Buttermints win the competition and get rewarded a contract with the network.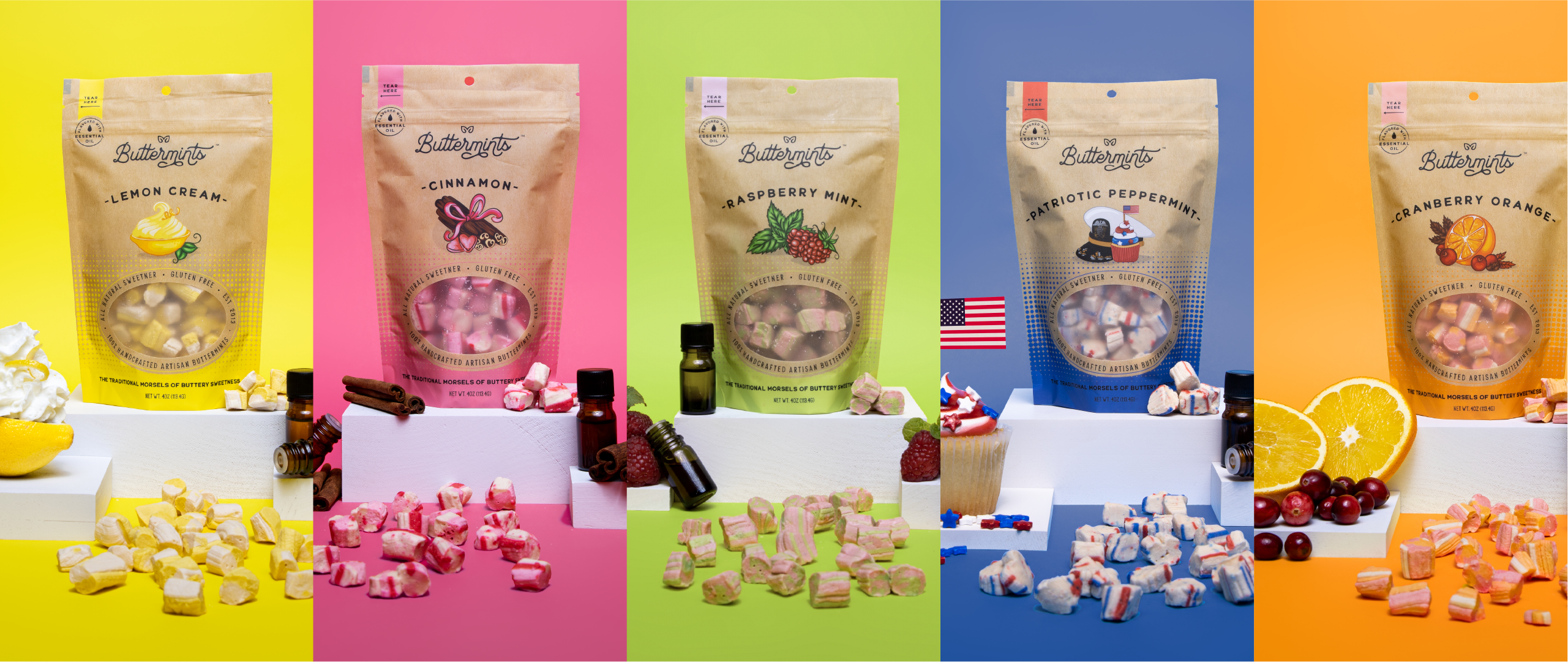 PHOTOGRAPHY
Photography for Buttermints we took pictures of their products for their website, packaging, marketing, and other purposes. We created several environmental graphics and holiday graphics to promote the sale of Buttermints.
VIDEO
Flitch produces and then markets dozens of marketing videos on social media platforms and television for Buttermints. The types of videos ranged from vertical, short-length social media videos highlighting flavors of the month, to "man on the street" style videos where Flitch interviews real people to get their first impressions when they try Buttermints for the first time. Flitch also creates high production value, high-resolution video content for use on Home Shopping Network and Youtube. Buttermints have experienced positive engagement with the audience and overall growth in brand awareness and sales because of the video marketing efforts.
PRINT
We designed and printed business cards, brochures, and product bags for Buttermints. After meeting with Buttermints and discussing the wants and needs of the company, we designed concepts for Buttermints to approve, deny or make changes to. After the designs were approved we got them printed and delivered to buttermints.
ENVIRONMENTAL GRAPHICS
We set up an environment to stage the buttermints in and took the photos to display. These photos were used in many different areas, from their website to promotional uses.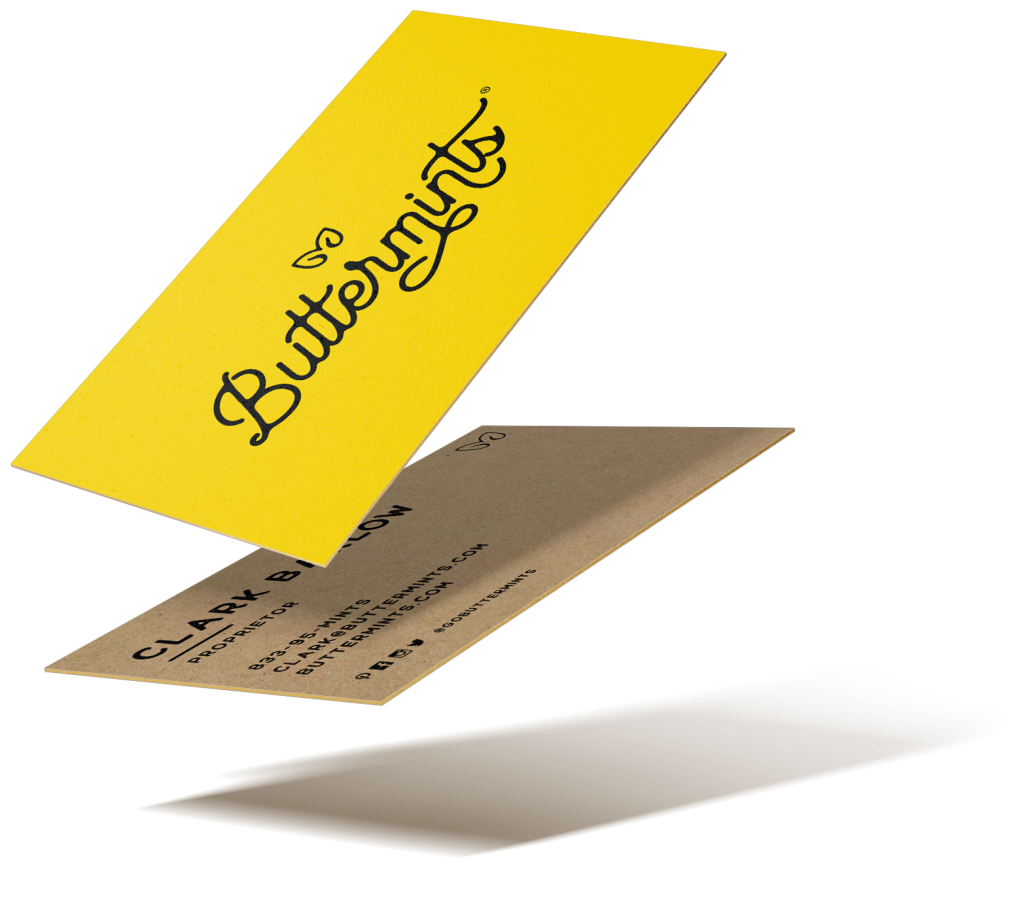 WEB
We created a dynamic, easy-to-use website for Buttermints. The website includes custom coding of rotating banners, e-commerce, product subscriptions, and an easy-to-use content management system that allows Buttermints to easily update products and content themselves. We coded the site to be SEO (search engine optimization) with a mobile responsive design that looks great on all platforms.
COPYWRITING
We helped Buttermints create unified messaging for their website and print materials. This process included sitting down with the owner and discovering the voice they want for Buttermints and choosing the right keywords and messaging.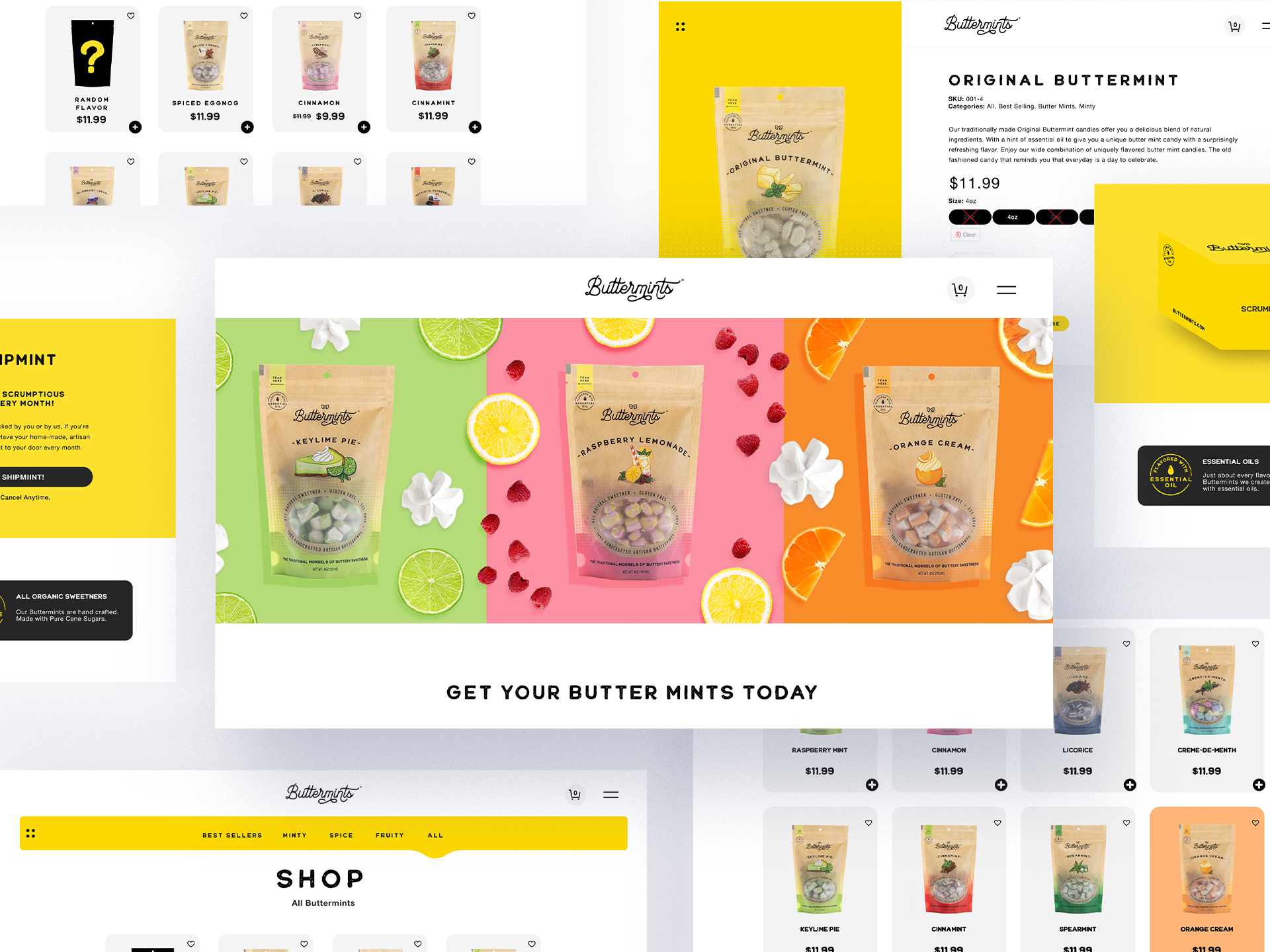 TECHNOLOGY
Elevating Buttermints
The technology we used to help elevate Buttermints is: E-commerce solutions, web development, integration, content management systems, web applications, and custom backend development.
MARKETING
Using Our Collective Brainpower
The Buttermints brand continues to grow each month. Buttermints are carried in dozens of retail locations in the mountain west region of the United States. HSN continues to sell thousands of bags each time they air on television. Quarterly website sales on Buttermints.com continue to increase as a result of greater brand exposure. Flitch continues to work as a close partner with Buttermints to market them to the masses and introduce new flavors. The dream of becoming a serious player in the candy industry is becoming reality.